Mechanical polarizer Hirschmann CSP 1210 C & Magnetic polarizer IRTE and their advantages and disadvantages in practice .
Mechanical polarizer Hirschmann CSP 1210 C & Magnetic polarizer IRTE and their advantages and disadvantages in practice .
.
From: qwerty adam
To: Roman Dávid / roman.david@dxsatcs.com
Sent: Friday, February 26, 2010 4:10 PM
Subject: Mechanical polarizer info
State: ?
.
Dear Sir,
I do have a technical question for your attention. I found a mechanical polarizer that is similar to Hirischmann mechanical
polarizer that is shown in the picture below. The product has been produced for the North American market and has a
frequency range of 11,700-12,750. Will this product also support low band 9750-11,170 frequency range. Logically it should
support all frequency ranges but I would like to make sure before I make a purchase.
Thank You for your time and attention.

click to enlarge
.
Answer to question No. 1 :
Dear Mr. ,

This polarizer has typified waveguide dimensions for the entire frequency spectrum bandwidth KU.At the beginning of
nineties he produced a Japanese company under various corporate labels.I myself have met the plates polarizers with
signs Hirschmann, SPC, NJR .... although this was entirely the same products.Typical for these polarizers loading was
significantly different attenuation depending on frequency and factor VSWR which means that apparently identical
polarizers in practice behave much differently.Each piece is supplied with the outcome measurements.When I studied
the results of measurements /test data/ of individuals differences in depression varied depending on the transient
frequencies up to 1.5 dB !!! Technical facts of this type polarizers, I portrayed in several works in which I defined in detail
the factors and transient attenuation factor and VSWR.
Photo annex to the first response from the author :
Hirschmann CSP 1210 C-outside Hirschmann CSP 1210 C-inside test data : VSWR_Isolation_Loss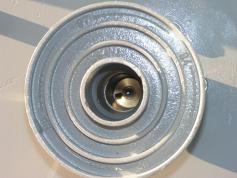 Hirschmann CSP 1210 C : installation manual in German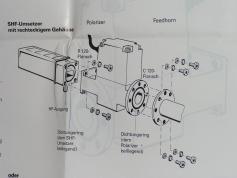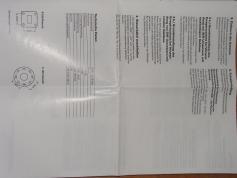 Hirschmann CSP 1210 C : installation manual in English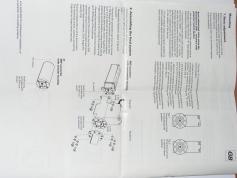 Dear Sir,
My system consists of a single 2,5 meter parabolic antenna and an EGIS rotor. I am planning to use SMW Q PLL Full Band
LNB as for my LNB choice. You mentioned that the particular polarizer I asked about shows different results, therefore
I ordered 5 of them, and I will test and use the one with the best test results. I also own a IRTE magnetic polarizer. Do you
have a recommendation as for LNB Polarizer goes?
Thanks for your time.
Answer to question No. 2 :
Dear Mr. ,

Your progress in the selection process of the converter and the mechanical polarizers I evaluated as correct.Of course,
magnetic polarizer I not recommended in any of the involved antenna with a diameter greater than 200-240+ cm .
Magnetic polarizers I have previously addressed in several works in which I describes many problems with low separation
polarized planes > Cross Pol Isolation << 23 dB.I also described the relationship between reduced possibility of defining
the plane of polarization depending on the level of saturation in the waveguide polarisers.I verified this relationship in practice
reception ( from Amos 2/3 at 4.0°W ) of 300 cm diameter antenna which was installed in the zone of Beam Peak.On the same
downlink frequencies but with different polarization plane I identified the non-cyclical growth of error on the ChBER for one to
three orders.Similar error conditions on mechanical polarizers Hirschmann CSP 1210 C, which has a isolation polarization planes
for more than 35 dB I never did not identify either the antennas with considerably larger diameter.
there are many problems and these are the only major ...
.
Photo annex to the second response from the author :

dxsatcs.com / Hirschmann CSP 1210 C : set to change the circular polarization in a rectangular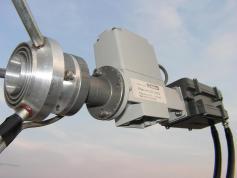 dxsatcs.com / Hirschmann CSP 1210 C : define SKEW angle by mechanical polarizers


CZECH & SLOVAK DX SATELLITE CLUB
international professional portal
think tank
Roman Dávid - author & founder
mail : roman.david@dxsatcs.com