Mr. Primož Gardelin , Slovenia
Primož Gardelin Slovenia: fixed system with Wavefrontier T90 + Triax TDA110 + Telesystem 85HQ all
with Quad LNBs linked to 3x EMP Centauri EMP S.16/1 PCP W3 + Terrestrial input from Iskra UHF 92-X
antenna for DVB-T.
Primož Gardelin Slovenia: In the garden i have put mast pole with 10 feet - 3.0 m mesh prime focus made
by Kaul-Tronics USA, model XTI-10.Using 24" heavy-duty actuator jack to drives on polarmount from 76.5° E
to 53° W. These are my horizontal limits. Now I use this dish mostly for C-band reception, mounted is orginal
KTI feedhorn with Gardiner 20° LNB using dielectric plate at 45° and servo polarotor gives me control and
reception of all 4 polarization types (H, V, R, L) depends on how the dipol is positioned to dielectric.
Primož Gardelin Slovenia: I've tested also Ku band with Invacom ADF-120 adjustable feedhorn and Invacom QDF-031,
where i got satisfactional results even with Astra 2D reception.



Here is my contribution article to friend's web page :
_ download pdf document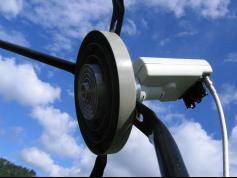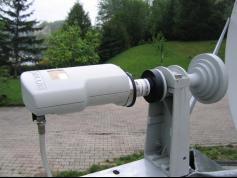 Primož Gardelin Slovenia: My recent aquisition is Channel Master Type 243, 2.4 m offset dish, you can see it on
terrace using temporary NPRM console. This dish will soon have fixed place on proper mast pole, i have to make
concreete foundation. With this dish i am currently testing in Ku band receptions using Invacom QDF-031.
My location in Slovenia is:
Latitude: 45.600 N
Longitude: 14.217 E
Altitude: 425 m