Mr. Alberto Simao - Macau S.A.R_Vertex RSI 9.0m Cassegrain antenna & quality measurement on the Sakshi TV in MPEG-4 compression from Insat 4B satellite at 93.5°E in C Band with spectrum analyzer Rohde & Schwarz ETL & Tandberg Receiver TT 1260
Insat 4B at 93.5°E - 4B footprint : measurements at the center Macau-60 km west of Hong Kong
geographical location : Latitude: 22.1987° _ Longitude: 113.5439°
measurement results are derived from the 900 cm diameter cassegrain antenna Vertex RSI
elevation angle : 55.5°
RX system : Vertex RSI 900 cm Insat 4B footprint for C band measurement point : Macau S.A.R China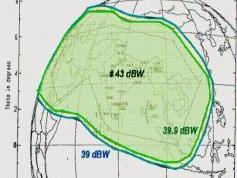 Vertex RSI 9.0m Cassegrain antenna pdf

Insat 4B at 93.5°E - 3 950 H MPEG-4 Sakshi TV : Vertex RSI 9.0m Cassegrain antenna & high frequency unit
Vertex RSI 9.0m Cassegrain antenna pointed to Insat 4B satellite at 93.5°E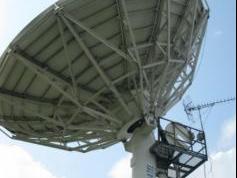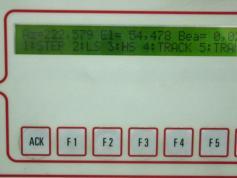 C band polarotor Chaparral with servo controlled & feedhorn & flange Norsat LNB PLL +/- 10 kHz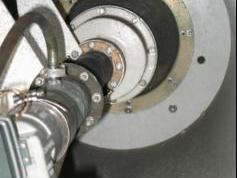 Insat 4B at 93.5°E - 3 950 H MPEG-4 Sakshi TV :spectral analysis with Rohde & Schwarz ETL 500 kHz-3 GHz
click for higher quality


Insat 4B : FULL H spectrum Insat 4B : part of H spectrum 01 Insat 4B : part of H spectrum 02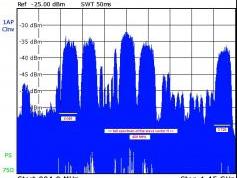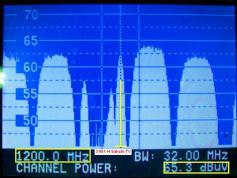 Insat 4B at 93.5°E - 3 950 H MPEG-4 Sakshi TV : quality analysis with Tandberg receiver TT 1260 & Prolink 4C Premium
carrier frequency f=3 950 MHz measurement PV BER data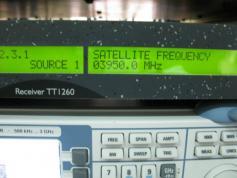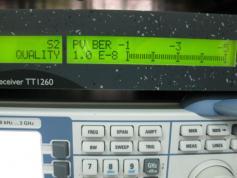 measurement C/N measurement C/N margin measurement SIG LVL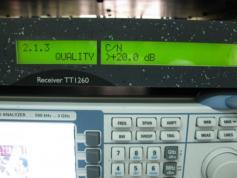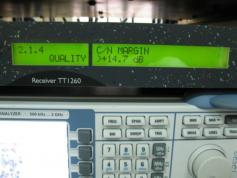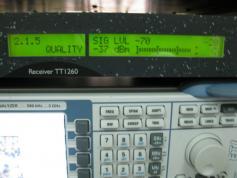 SR=4.440 MSymb/sec measurement TS TID quality measurement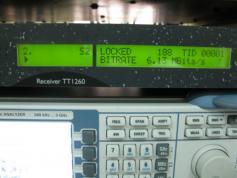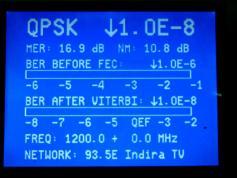 Insat 4B at 93.5°E - 3 950 H MPEG-4 Sakshi TV : Rohde Schwarz TS PSI summary
Insat 4B at 93.5°E - 3 950 H MPEG-4 Sakshi TV : Rohde & Schwarz video presentation
Insat 4B at 93.5°E - 3 950 H MPEG-4 Sakshi TV :measurement results_Macau S.A.R / Lučenec Slovakia
measurement at the center Macao
PF Vertex RSI 900 cm quality analysis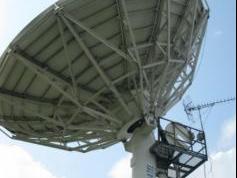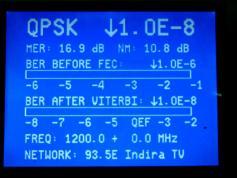 measurement at the center Lučenec / Slovakia
PF Prodelin 370 cm quality analysis QPSK constellation diagram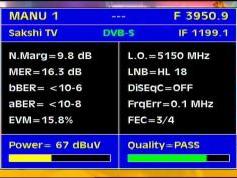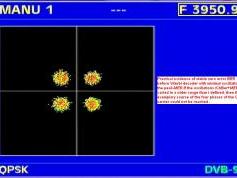 author : Mr. Alberto Simao _ Macau S.A.R.
I have done the following Setup: Insat4B at Frequency of 3 950 with 900 cm Vertex antenna.
The output of Norsat LNB was divided by 4 and i have applied one Out to R&S another to Tandberg TT1260 and another
to Promax. The Tandberg ASI-1 Output I have connected to R&S External ASI Input for measuring and view the video signal
from Sakshi TV.This Tandberg Receiver have a Low Sy facility,so i use the ASI output for monitoring in the R&S.
Is including a small video clip for reference taking by camera from R&S screen.